Keep your soups, gravies, and oatmeal hot with our wide selection of countertop soup kettles and commercial soup warmers! Ideal for catering and buffet-style establishments, our commercial food warmers keep their contents at a safe food-serving temperature. Depending on the size of your establishment, choose from 10 QT and 13 QT soup warmers. Our 3-pan warmers also allow for efficient space-saving and optimal efficiency with buffet lines and catering events. 
shop by category
Butter Melters
What better accompaniment to clams, oysters, crabs, and lobsters than butter?
Countertop Food Warmers
An efficient and compact appliance to keep your culinary creations hot and ready to go!
Fondue Sets
For a memorable dining experience your customers won't forget!
Food Wells & Rethermalizers
Designed for quick and convenient service of your delicious hot meals!
Heat Lamps
Consistency is key with our heat lamps when it comes to serving your precious customers with enjoyable fresh meals!
Holding Cabinets & Drawer Warmers
Give your kitchen ample space and time to prep for daily operations or large-scale production!
Rechauds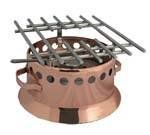 Elegant stovetop cooking on the go!
Sauce Warmers
The most delectable sweet and savoury treats are just a sauce warmer away!
Food Holding Equipment & Warming Top Brand
Top Resource and Articles
With over 50 years' combined experience providing restaurant supplies to business owners throu ...
If you enjoy and are skilled in cooking, hosting and business, starting your own catering company mi ...
Food Holding Equipment & Warming Top Products